Media Markt
Europe's largest consumer electronics retailer, with over 750 stores and millions of happy customers.
Sector: Retail
Founded: 1979
Entered Russian market: 2006
Number of stores: 750+
Number of employees: 70,000+
Annual turnover: €20.97 billion
Media Markt is Europe's largest consumer electronics retailer, with more 750 locations across the continent. Within Russia, the brand has dozens of outlets, but offers internet sales through a single unified online store. This posed a problem, as the vast distances between each physical store caused logistical difficulties and the company needed a technical solution to aggregate the product and stock-level data from each location in real-time.
The company also wanted to use its increasing web presence to gather customer feedback to improve its loyalty programme, and streamline its recruitment process with the introduction of an online careers portal.
Meanwhile, in the company's physical stores, the self-service terminals were slow, complex, and unpopular with customers. The machines were in need of a software refresh and new user interface to simplify the shopping experience.
Objectives
We were entrusted with four main tasks:
Implement a solution to aggregate product and stock information from the company's retail outlets for their internal portal and online store
Create a system of surveys and questionnaires to collect customer data and improve the company's existing loyalty programme
Software development for self-service terminals
Development and launch a recruitment portal
After thorough selection process, Media Markt decided to partner with Andersen, based on our team's professional expertise and previous experience in the retail sector working with companies such as the X5 Retail Group.
Project
Aggregation of product and stock information
Media Markt operates more than 65 outlets across Russia, but to create a single unified online store the company needed to be able to combine product information and stock availability from each location in real-time.
Our developers created a service that regularly polls the product database of each Media Markt location, and consolidates that data into a centralised system for the internal portal and online store. As a result of this integration, customers can immediately see stock availability and delivery options relevant to them, while managers can more easily monitor stock levels and improve logistics efficiency.
Software for self-service terminals
The previous software for the self-service terminals were difficult to use, and customers often had to call on members of staff for assistance. Our developers created a new user-friendly interface that reduces the overall number of steps needed to make purchases, book deliveries, and streamlines the overall payment process.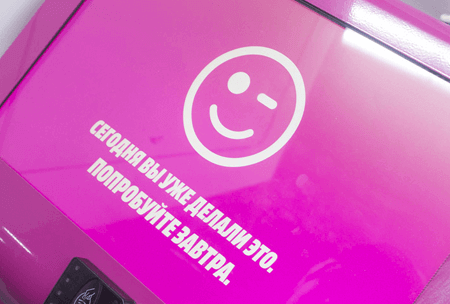 Questionnaires and customer loyalty programme improvements
To increase repeat business both in-store and online, Media Markt wanted to learn more about their customers and improve their loyalty programme.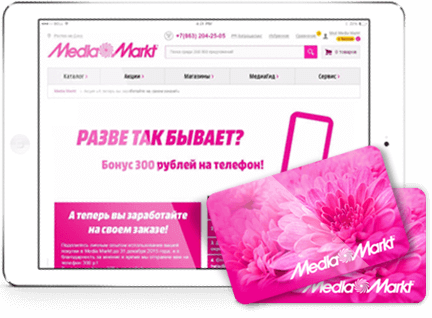 Our developers integrated a system of surveys into the existing loyalty programme, and incentivised customers to complete the questionnaires by offering them reward points that could be redeemed as discounts on future purchases. Data from these surveys is combined with each customer's purchase history, search requests, and other information to create a more personalised experience and offer them targeted discounts and sale notifications.
Recruitment portal
To demonstrate the benefits of working for Media Markt to potential employees, our team worked with the company to develop an online recruitment portal. The website displays current vacancies with filters for role and location, and candidates can apply for roles by filling out an online form and attaching their CV or linking to an online resume.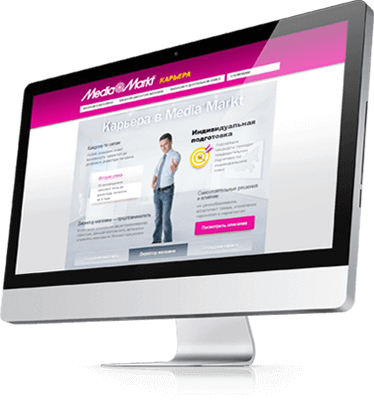 Impact
The integration of real-time stock availability and local delivery options into the online store increased Media Markt's online sales by 14% within the first six months.
Twenty percent of customers now opt to use the refreshed self-service terminals to make their purchases and book deliveries, reducing the burden on in-store staff.
Take-up of the new and improved loyalty programme increased by 17% within the first three months, and the questionnaires continue generate actionable feedback that Media Markt use to improve its stores.
The new recruitment portal increased the number of applicants for each role by 40%, and helped Media Markt create a database of potential candidates for future vacancies.
Increase in the number of sales
Updating self-service terminals
Number of the new improved loyalty programme
We continue to work with Media Markt on new projects.
Effort
Service development – 4550 hours
Software for terminals – 300 hours
Polls and quizzes – 300 hours
Recruiting site – 900 hours
Testing – 1220 hours
Currently, our cooperation with Media Markt continues in new joint projects.
Android:
Android SDK
RxJava
Retrofit
SQLite
Picasso
Gson
Git
Support Library
---
iOS:
Objective C
UIKit
Foundation
FMDB
Bolts
AppsFlyer
AFNetworking
MagicalRecord
Google Analytics
Fabric
Typhoon
Client's feedback

Nikolay Vazovsky
Chairman of the Board of Directors
Andersen experts were able to grasp the essence of the problem and found the most appropriate solution. In particular, thanks to their work, Media Markt in Russia has become a truly unified network, working for the benefit of our customers.